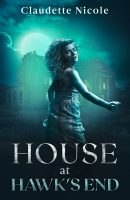 Did she come her of her own free will...or was she compelled by an evil force from the dark past?
Sophisticated, beautiful, impetuous Jean Burroughs flees the chaos of the city to find some peace. So she retreats to the old family place at Hawk's End, high on a lonely tip of the Nova Scotia coast.
But from the moment of her arrival, the townspeople hate her... and pressure her to leave. But Jean is stubborn … and proud...and is soon plunged into a nightmare of shadows and violence. She's terrorized by strange accidents, fiery visions on the sea, and the sound of death padding after her in the night. Something weird and evil has been unleashed....and that it's coming for her.